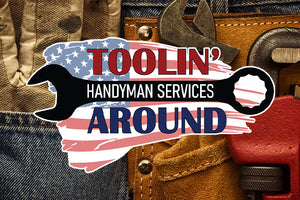 Toolin' Around - Maintenance Service Package
$ 33000

$ 330.00

Save $ 330
---
---
1-Year Membership (4 visits)
Quarterly Maintenance Service Package Includes:
- ONE 90-min quarterly visit inspecting/addressing maintenance items
- ONE FREE refrigerator water filter
- FOUR FREE a/c air filters installed each year
- FREE smoke detector battery replacements each year
- FREE dryer vent cleaning
- FREE water heater flush
- QUARTERLY INSPECTIONS - click here for a more detailed list of services

Your dedicated, professional handyman will spend up to 90-min addressing items on the maintenance agenda. Any extra time will be dedicated to the homeowner's projects of choice. Each home is unique so the amount of extra time available for additional tasks will vary from visit to visit. (Additional time may be added at the preferred homeowner's discounted membership rate of $60/hr.) *As time allows, address items on the homeowner's to-do list.

*Disclaimer: Toolin' Around Handyman Services is required by law to state that we do not have a contractor's license.

Areas Covered:
Kern County - Bakersfield - Rosedale - Oildale - Shafter - Delano - Taft

No cash value. No cash back.

Toolin' Around
toolinaroundhandyman.com
Office: 661-444-1234
Email: toolinaroundhandyman@gmail.com