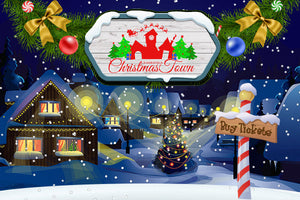 Christmas Town 2023 - Drive Thru ONLY
Good for 1 DRIVE THRU ticket Monday-Thursday ONLY
TICKET NOT VALID Friday-Sundays
OPEN 11/24/23-12/31/23
CLOSED on Nov 29th and Dec 4th for a private event


Passenger Vehicles only. No RV, Buses, or Limos
All occupants must have a seatbelt.
Ticket includes ONE time through the Drive Thru
No cash value. Tickets cannot be exchanged or refunded even if lost, stolen, damaged or destroyed, and any additional fees cannot be refunded. All sales are final. No credits/refunds of certificates not picked up.
Kern County Fairgrounds
1142 P Street, Bakersfield, CA 93307
661-345-1675
ChristmasTown.net
Please contact the business for current hours/services.